Congratulations to Chris the winner of the KP HeatWave Hot Ticket contest 2011.
It was actually Chris's girlfriend Kiri that purchased the HeatWave ticket for Chris as a gift and after hitting the road in hunt of our Hot Ticket she sure has one hell of a gift for her man now!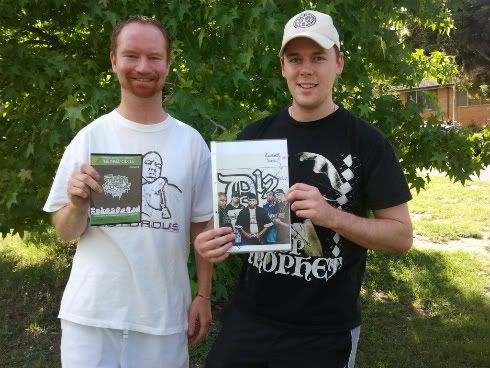 Pictured above – Right Chris and left the mate he is taking along for the ride.
THE HOT TICKET PRIZE FOR 2011 WAS
• An autographed D12 photo signed by Bizarre, Kuniva, Swift and the late Proof. (With certificate of authenticity)
• A King bed hotel room in Canberra City.
• A bottle of Grey Goose on arrival.
• Limo ride for 2 from the hotel to HeatWave.
• A visit back stage to the artist village.
• VIP upgrade for standard ticket holder so you can rub shoulders with the acts in the VIP bar and beer garden. (D12, Tech N9ne, Obie Trice, Crazytown and more)
• Double guest list entry to the biggest hip hop after party Canberra has ever seen.
• A VIP pass for a friend so they can share your experience.
• A copy of Tech N9nes 'All 6's And 7's' LP.
• A copy of the KP Records/Bone Thugs N Harmony DVD 'The Inner Circle'.
• A Dog Fight Australia T-Shirt and sticker pack.
KEEP AN EYE ON KOKYPRIK.COM FOR MORE INSANE PRIZES IN 2012!!