THE HEATWAVE HOT TICKET
Keep your eye out around Canberra for the Hot Ticket!
Burn up HeatWave VIP style this summer with the HeatWave Hot Ticket.
The ultimate hip hop experience at the ultimate hip hop event.
Get backstage, get VIP, get to the after party, rub shoulders with the acts, get a limo, sip some Grey Goose, bump some Tech N9ne and bring a friend along for the ride.
The Hot Ticket is up for grabs and it is sitting unguarded somewhere around the ACT.
This is who wants it most treasure hunt style.
We will not be charging an extra cent for this once in a lifetime experience or the goodies involved.
Call it our gift for one lucky hip hop head.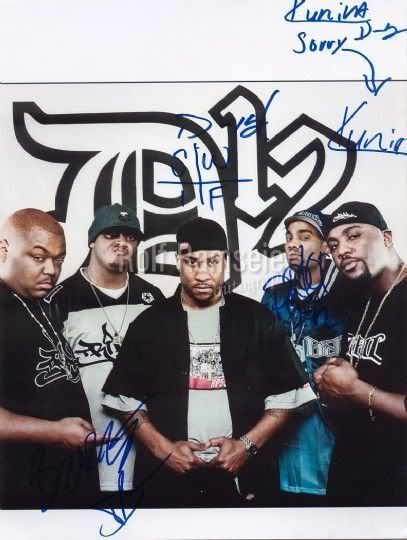 Autographed D12 photo signed by Bizarre, Kuniva, Swift and the late Proof. (PART OF THE HOT TICKET!)
For your chance to get your hands on the Hot Ticket follow these easy steps and join the mayhem!
1) Purchase a ticket to HeatWave via moshtix by December 16 2012.
2) Email your Moshtix booking number and full name to heatwavehotticket@hotmail.com by December 16.
3) On December 17 2011 at 10.00am sharp entrants will be emailed a list of locations around the Canberra region.
At one of these locations the Hot Ticket will be awaiting collection.
Find the right location and the Hot Ticket is yours!
One lucky punter will locate the Hot Ticket and on the back will be a phone number to call.
Once the winning call comes through we will verify the winner has the ticket and were good to go.
The Hot Ticket includes;
• An autographed D12 photo signed by Bizarre, Kuniva, Swift and the late Proof. (With certificate of authenticity)
• A King bed hotel room in Canberra City.
• A bottle of Grey Goose on arrival.
• Limo ride for 2 from the hotel to HeatWave.
• A visit back stage to the artist village.
• VIP upgrade for standard ticket holder so you can rub shoulders with the acts in the VIP bar and beer garden. (D12, Tech N9ne, Obie Trice, Crazytown and more)
• Double guest list entry to the biggest hip hop after party Canberra has ever seen.
• A VIP pass for a friend so they can share your experience.
• A copy of Tech N9nes 'All 6's And 7's' LP.
• A copy of the KP Records/Bone Thugs N Harmony DVD 'The Inner Circle'.
• A Dog Fight Australia T-Shirt and sticker pack.
The Hot Ticket is presented to you by KP Records (36 654 758 562) and Dog Fight Australia.
HeatWave – Tickets on sale now! CLICK HERE TO PURCHASE NOW
The HeatWave line up so far;
Tech N9ne.
D12.
Obie Trice.
Crazytown. (with full band)
Koolism.
Big Dave and Grantwho.
DOpus and Roshambo (with full band)
DJ Rush.
Kodak.
N2W.
Dlinkwnt.
Kitty B.
Bishop.
DJ Skae with Eitha, Deon and Collossuss.
Hosted by the BRB.