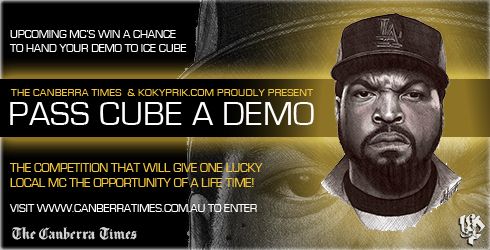 For many musicians there is that dream.
That dream that one day, some how, they will cross path's with their favourite artist, hand them a demo and then the next thing they know they will be on a world tour together.
It's a familiar dream for many a musician but few of them ever have it realised.
We'll this time around we would like to help one lucky local MC and Ice Cube fan to try and realise that dream.
We want to give you the opportunity to PASS CUBE A DEMO!
To enter simply visit canberratimes.com.au and enter online now.
Entry is free and the winner will be announced on September the 3rd 2011 at kokyprik.com.
Two runners up will receive double passes to Ice Cube with WC live at the AIS Arena September 16th 2011.
Good luck!