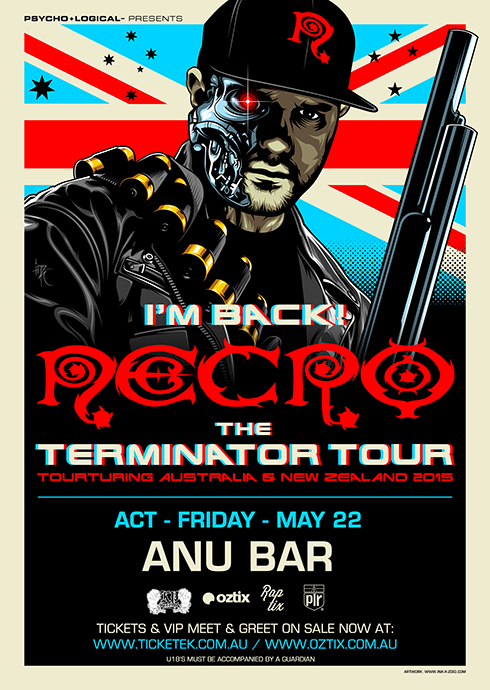 Lock your doors, call triple o or grab yourself a ticket.
KP Records presents Necro live in Canberra!
Friday May 22nd, ANU Bar.
CLICK HERE FOR TICKETS
Limited cheap first release tickets are on sale now for $45 (Plus Ticketek booking and inside charges)
Get in quick because second release tickets will be $60 (Plus Ticketek booking and inside charges)
For the major Necro fans we also have limited premium VIP tickets. These tickets will include the opportunity to come backstage and meet Necro after the show, a photo opportunity and an A3 tour poster to have signed while your there.
In the meantime follow Necro on Facebook – https://www.facebook.com/necrohiphop 
HE'S BACK! The undisputed underground and death rap king NECRO is back to brutalize Australian and New Zealand shores for the first time in six years.
Having played sold out tours in 2007 and 2009 Necro embarks on his biggest run of dates yet and is set to shock fans after many thought he may be banned from playing here again!
Brooklyn born and raised rapper Necro started off by playing guitar in bands until 1990. 1991 saw Necro receive recognition for his craft, when he won a demo contest on the infamous Stretch and Bobbito Radio Show in NYC.
This appearance and other radio shows over the next few years would give Necro a massive street buzz before releasing his first record.
It would be in 1996 through 99, that Necro released a series of top 5 college radio singles, including "Bury You With Satan" which reached number 1 on American college radio charts.
Over the past decade, Necro has established himself as one of the most successful crossover artists from the hip-hop genre and is now also a massive cult figure amongst fans of metal and hardcore music thanks to his controversial, brutal lyrical content.
With almost no commercial radio support, Necro fans flock online to keep up to date with news and he has now formed an immense online community through his website (100