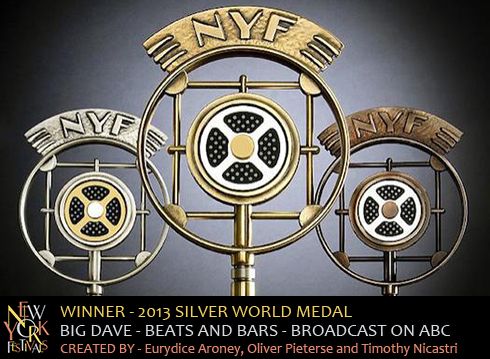 Massive news!
The Big Dave ABC radio feature "Beats And Bars" has picked up a silver world medal at the New York Festivals Radio Awards held at Manhattan Penthouse in New York City.
Congratulations go out to the creators of the Beats And Bars feature – Eurydice Aroney, Oliver Pieterse and Timothy Nicastri along with congratulations to KP artist and founder Big Dave and everyone else involved.
The feature was created over a period of about 12 months with Eurydice and her team following the progress of Big Dave, his music career and KP Records while also discovering his past and how he came to be where he is now.
They conducted interviews with Dave and other members of the KP family, visited KP HQ, attended events and stayed in regular contact to put together an insightful and truthful documentary.
If you are yet to hear the 30 minute feature which also features words from Ice Cube, KRS ONE and John Payne you can have a listen or download via the links below.
ABC Website – CLICK HERE
KP SOUNDCLOUD – CLICK HERE